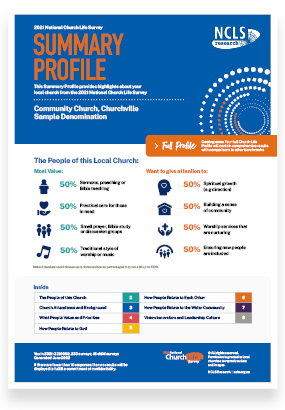 First results
Participating churches in the 2021 NCLS are due to receive their first release of results, in a Summary Profile, from April 2022.
In the month of April, churches will receive an email informing them of their Summary Profile, available to view online using a Profile Number.
Churches can share this Profile Number with anyone they would like to share their Profile with, e.g. Church Committee, Elders, Leadership Team, or whole church. 

March update on the 2021 NCLS
The end of March is the target date for churches to return their surveys 
That target enables NCLS to deliver timely results back to churches and denominations
Late returns will still be processed but results will be delayed. More information about survey options to adapt to various COVID-19 restrictions is available.
Summary of key dates for local churches
ORDER

January-November 2021

Churches register and order surveys.

The survey registration period has been extended due to COVID-19. Churches can still order surveys.

DISPATCH

from late October 2021

Survey kits distributed to churches.

COMPLETE

from November 2021- March 2022

Churches complete their surveys from November until March 2022.

The survey period has been extended until the end of March 2022 due to COVID-19.

RETURN

from December 2021 to March 2022

Churches post their completed survey items to NCLS Research.

RECEIVE

from April 2022

mid 2022

Churches receive their Summary Profile in a first release of highlight results.

Churches receive their full Church Life Profile with detailed results.
Important dates for Regional Coordinators
1.

Consultation with denominational leaders

2019 and 2020

2.

Denominations give an expression of Interest   

Indicate likely level of overall participation
Identify who will be the NCLS Regional Co-ordinator to receive communications      

By the end of 2020

3.

Confirm level and type of participation                                 

Choose which surveys: church census, leaders, all attenders or local community.
Aim to involve all/most churches, a research sample or churches opt in.
Decide if there will be special extra denominational commissioned questions

By March 2021

4.

Update church contact details and place survey orders

Jan to Oct 2021

5.

Conduct 2021 National Church Life Survey

Nov 2021 until Mar 2022

6.

Local churches return surveys to NCLS Research

From Dec 2021 to March 2022

7.

NCLS Research delivers results to local churches

first release April 2022

full Profile mid 2022

8.

NCLS Research delivers regional and denominational  results

After mid 2022