Overview of surveys and costs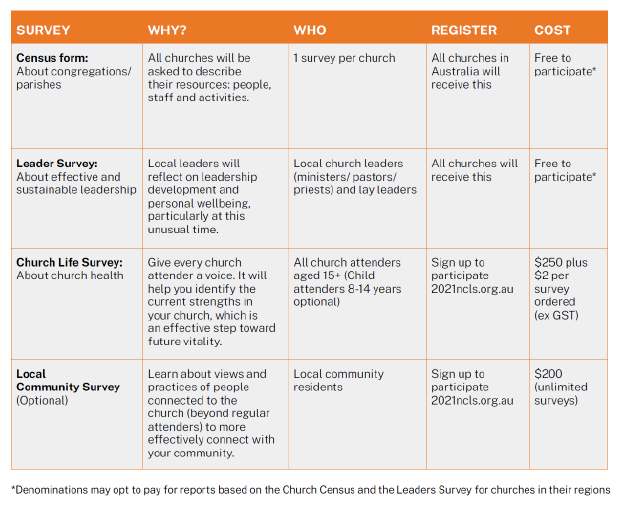 What churches get for the money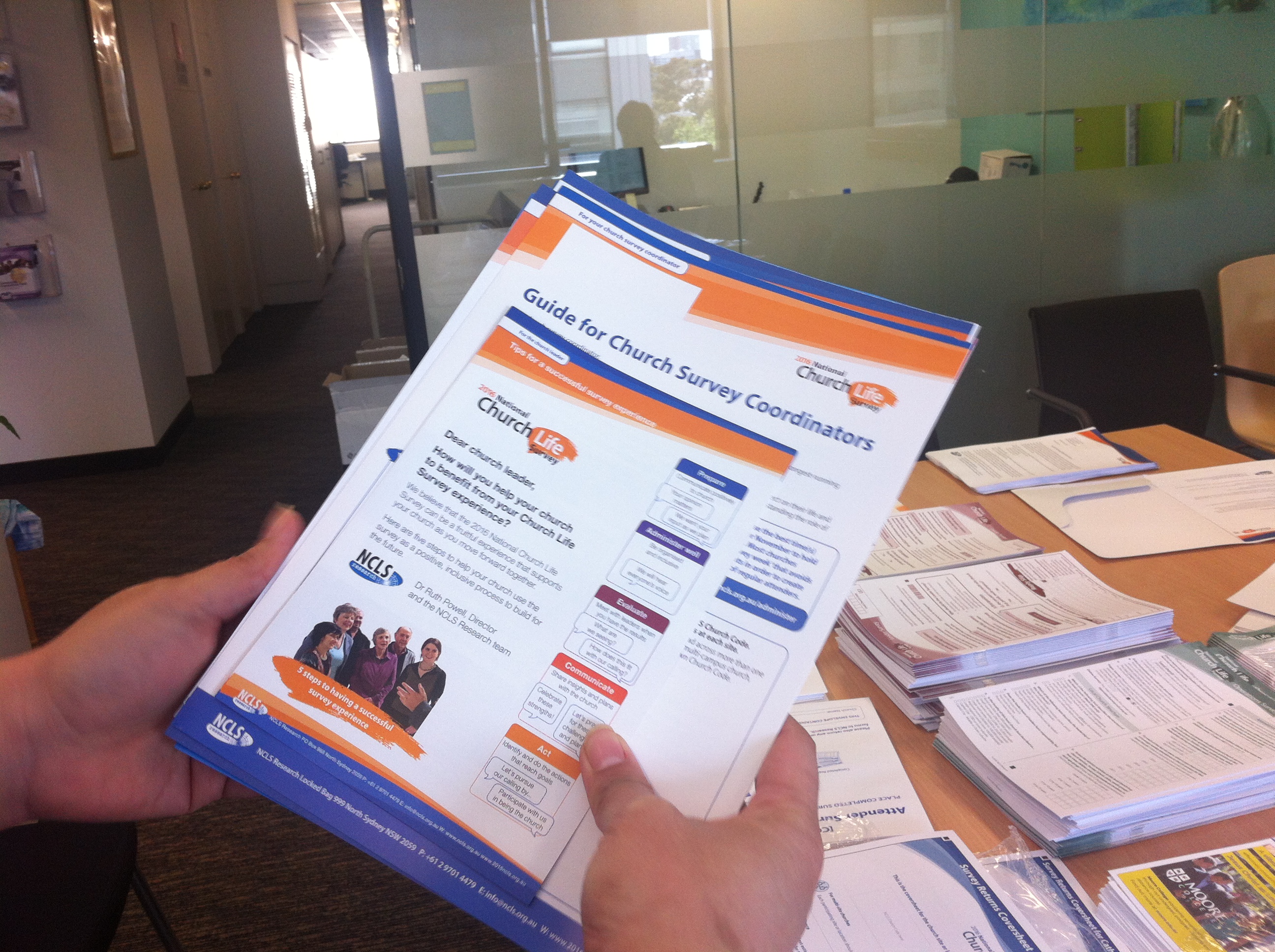 Survey kit and instructions
Participating churches will be provided with a survey kit including their ordered surveys, full instructions, promotional material and worship service resources to assist leaders in running the survey at their church. The cost provides Attender Surveys ordered, for churchgoers aged 15 years and over; as well as Child Surveys ordered, for churchgoers aged 8 to 14 (optional to order). Leader Surveys for ministry leaders and staff; and a Church Census Form for a church administrator are provided at no extra cost.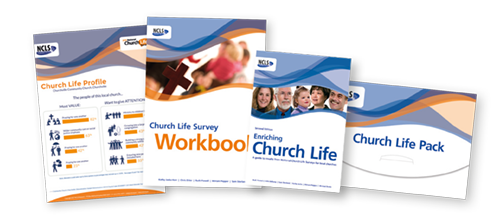 Church Life Pack
Following completion of the survey, participating churches receive a Church Life Pack of resources, including their survey results in a comprehensive Church Life Profile. The Pack is designed to be practical and easy to use, to help churches get the most out of their results, strengthen their vitality and plan for the future.
A church's unique

 

Church Life Profile

 

shows their survey results with a clear evaluation of their church's vitality. Online access to the Profile is included.
A

 

Church Life Survey Workbook

 

to help churches to evaluate, communicate and act on their survey results. Step-by-step processes are included to apply their results in mission planning and building a more vital future.
Planning and multimedia resources for facilitators, including workshop outlines and audio visual resources are available online.
N.B. A minimum of 10 survey forms is required to produce a Church Life Profile of results, in order to protect the confidentiality of attenders. Special pricing arrangements are in place for small rural churches, who do not have sufficient numbers of attenders to produce a Profile of results.
Please contact your NCLS Coordinator for more information.
What denominations and regions get for the money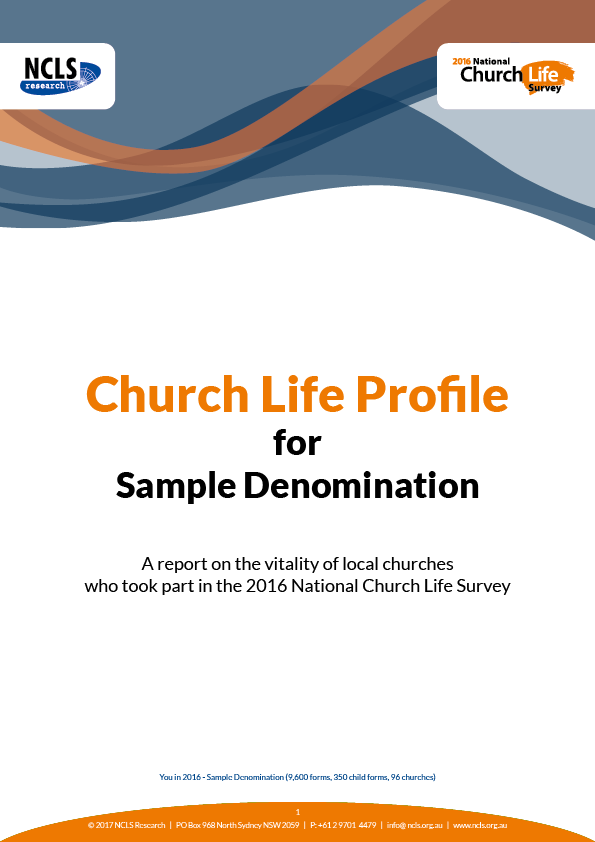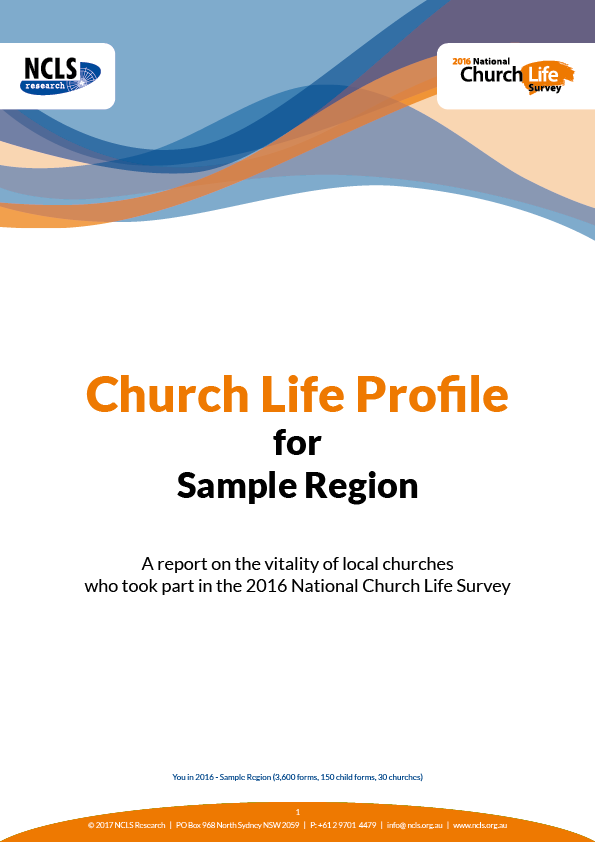 As well as producing individual results for local churches, NCLS Research also supplies Denominational and Regional Profiles. These Profiles, along with a range of other reports, appraise a denomination's churches in areas such as: church health and vitality, demographics of attenders, attendance patterns, church activities in local communities and wider society, and effective leadership practices. By providing an evidence base for decisions and allocation of resources and training, NCLS Research aims to equip denominational leaders for strategic and pastoral leadership of their churches.
Discounts and subsidies
A range of ways are provided to keep costs down for churches. Various discounts may apply to a church such as the flat rate for small churches, subsidies from denominations and bulk order discounts.
1. Small church flat rate: churches with less than 30 attenders are capped at $250 (ex GST).
2. Denominational bulk order discount: Denominations will get a bulk discount when most churches in a region or state take part.
3. Clusters: Small churches may work together in clusters for the survey to reduce costs. This is normally arranged through the NCLS Regional Coordinator in that region or denomination.
4. Denominational subsidy: Some regions and denominations provide a subsidy for their churches, perhaps paying the base fee on behalf of the local churches (while others will pass on costs to the local church).
5. Wider sponsorship: The 2021 NCLS receives some wider sponsorship, to enable costs to be kept to a minimum for participating churches.
About Payment
When churches place their order for surveys, no payment is required at the time of submitting their order.
In general, NCLS Research works through Regional Coordinators from each denomination, state or region. Contact your NCLS Regional Coordinator.
After survey orders have been placed, invoices will be generated for denominations that list costs for local churches and incorporate any relevant discounts. Each denomination or region will have their own financial arrangements regarding how they liaise with their own local churches.
In cases where there is no active Regional Coordinator, then local churches may liaise directly with the NCLS Research office surveys@ncls.org.au.
Full documentation detailing arrangements with denominations is available for Regional Coordinators.