The first release of results is available for participating churches from April 2022. The Summary Profile contains highlights of a church's survey results.
Local churches can view their Summary Profile using their Profile Number online.
Churches who have participated in the 2021 NCLS will receive their results in phases. The first phase in April 2022 is the release of a church's Summary Profile, including a highlight of their results from the survey.
Churches can view their Summary Profile online using the Profile Number sent to their church from April 2022.
Enter your church's Profile Number to view your results online

Where do I find my Profile Number?
Churches who have completed and returned their 2021 NCLS Surveys, will receive an email announcing when their Summary Profile is available online, from April 2022. 
The Summary Profile is an 8 page report containing highlights of a church's results from the 2021 National Church Life Survey.
It is presented in a dynamic, infographic style, is easy to read and share with others. Each page and the entire Profile can be downloaded as a pdf document. The Profile Number can also be shared with any number of people to enable them to view the Profile online.
The Summary Profile includes:
The people of this church
Church attendance and background of attenders
What people value and prioritise
How people relate to God
How people relate to each other
How people relate to the wider community
Vision, innovation and leadership culture
View Sample Summary Profile (pdf)

Worksheets to explore your Summary Profile
A series of worksheets are available to help you explore your results. These will help involve your church in a positive process to reflect on and explore your results, then respond to your findings and take practical steps of action into the future.
A detailed Workbook, along with other supportive resources, will be available as part of the Church Life Pack around September 2022, in time for the release of their full Church Life Profile of results.
Explore pages 2-4 of our Summary Profile: "Our people, backgrounds and priorities":
Worksheet: Our people, backgrounds and priorities
Explore pages 5-7 of our Summary Profile: "How we relate to God, each other and our community":
Worksheet: God, eachother and community
Explore page 8 of our Summary Profile: "Our vision, innovation and leadership culture":
Worksheet: Vision, innovation and leadership
Synthesise our Summary Profile into a report:
April 2022- Summary Profile available online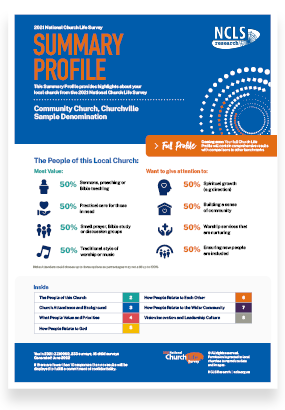 September 2022 - Church Life Profile available online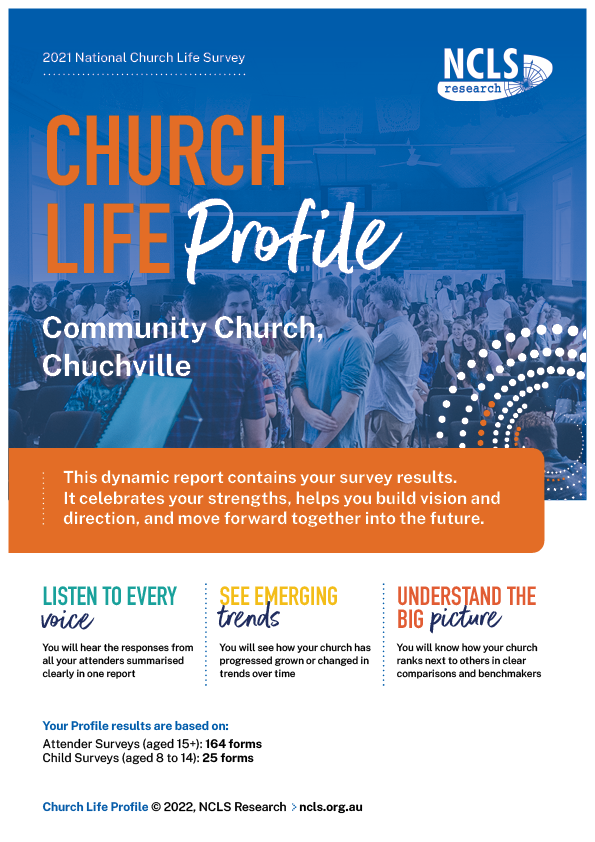 September 2022- Church Life Packs available